Here is a chance to meet the Gourmet Artisan producers that supply Boxed Indulgence with all the fabulous products that are in our hampers.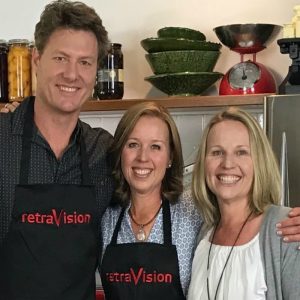 The Fat Hippo
I am a fourth generation South African, now proud to be Australian. My fondest memories are of the numerous occasions, my sister and I watched and helped our Grandmothers in their kitchens, preparing a variety of 'real food', that often required patience and considerable preparation. Those precious times together were filled with fun and laughter and so in this way the joys, as well as the basic training and techniques of cooking were learnt.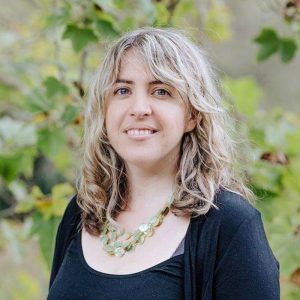 The Green Pantry
I'm a real food advocate from way back. For me eating food has to involve real ingredients that have traceability. The food we eat is so important for the health of our bodies and the health of our planet.
Keeping ingredients simple and real allows our bodies heal. I started up The Green Pantry because like many of us I was sick of the lack of quality gluten free foods available. I wanted to take it the next step and offer a range of foods that tasted great and included easy to digest nutrient dense foods that were prebiotic and probiotic rich.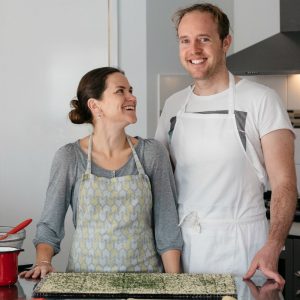 Margaret River Gourmet Crackers
With the Margaret River region showcasing some of the world's best wine, cheese and gourmet produce, Nicci and Bryce were surprised when they were not able to find a local cracker biscuit to accompany their platter.
One Saturday at the Farmer's Market they collected some fresh produce from the local vendors and set about creating a gourmet cracker that would truly represent Margaret River.
They now use many local ingredients including Osmington Organic Garlic, Margaret River Chillies, Jaclyn's Fresh Herbs, Harvey Blue Cheese, Margaret
River Cheddar, Manjimup Truffles and even rosemary from the home garden.
They currently have 8 flavours and have developed a Gluten Free, so that no one has to go without!
Find them at the Farmer's Market every Saturday with their
little girl Sophie and lots of tasty samples for you to try!!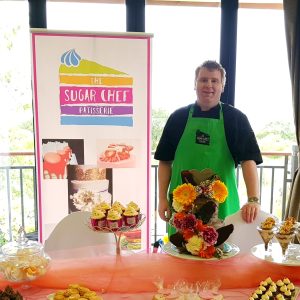 The Sugar Chef Patisserie
Steve and Stephanie Reynolds are long time Busselton residents, and opened the Sugar Chef Patisserie in May 2017. Pastry chef Steve loves nothing more than to be creating gorgeous cakes. Whether it is for a wedding, birthday or anything really, then visit their shop here in Busselton.
You won't be disappointed!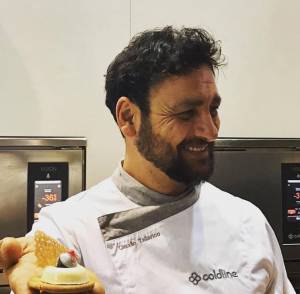 Claudio Biscotti
 Claudio's intention is to produce every biscuit Italy has to offer with the same care and love that our mothers and grandmothers used to make them. Our biscuits are made from the freshest ingredients and don't contain any types of additives and artificial colourings.  We want people to experience the real taste of Italys own biscuits.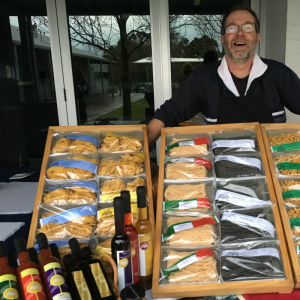 Fine Food of Margaret River
Fine Food of Margaret River is gourmet food produced by Romano Rotelli. Italian born and bred, Romano has lived in Queensland and Western Australia since migrating from Italy. He has produced the gourmet food range for more than 16 years in the Margaret River Region.
Romano has been a regular at the local Margaret River Farmers Market since they began in 2001. By popular demand our ranges of food are being introduced online for our many visitors to the region to enjoy at home.