Our previously delivered Foodie Boxes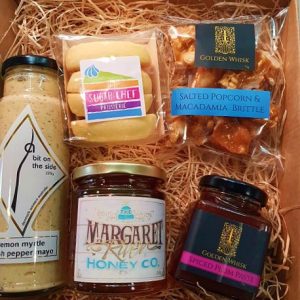 JULY
Bit on the Side – Lemon Myrtle & Black Pepper Mayo
Gold Whisk – Apple Paste
Margaret River Honey – Marri Redgum Honey
Golden Whisk – Salted Popcorn & Macadamia Brittle
Sugar Chef Patisserie – Shortbread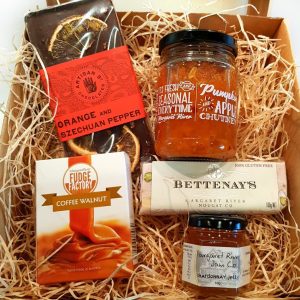 JUNE
Artisan St Chocolate Block
Paddock2Produce Pumpkin & Apple Chutney
Margaret River Fudge Factory Fudge
Bettenays Nougat Bar
Margaret River Jam Co. Chardonnay Jam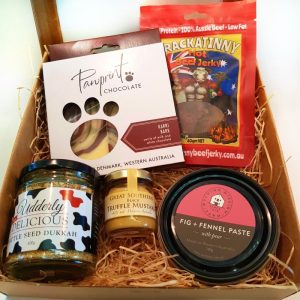 MAY
Udderly Delicious Dukkah
Crackatinny Beef Jerky
Pawprint Chocolate Block
Wyening Farm Fig & Fennel Paste
Great Southern Truffle Mustard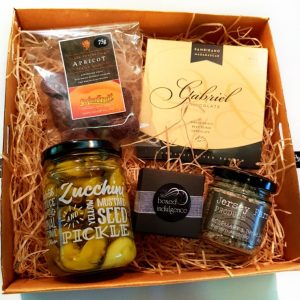 APRIL
Solarfruit Chocolate Fruit
Gabriel Chocolate Block
Paddock2Produce Zucchini Mustard Pickle
Jersey Farm Rosemary and Thyme Salt
Boxed Indulgence Homemade shortbread
Taste the best that the Margaret River Region has to offer
This beautiful region is full of some of the most amazing produce in the world, and you can experience that each month with our Gourmet Foodie Boxes.
We hand pick every product to make sure you receive the best that is on offer.
And you can also add a Margaret River Regional wine to complete your Foodie Box experience.
What's In The Box?
We select between 5 – 6 products for each Foodie Box, then package them up and send them off to you free of charge, wherever you are in Australia.
There is no lock in contract and you can cancel your delivery at any time.
Or just order 1 to see if you would like to join the rest of the lucky customers that receive their delivery each month. Simply select the Foodie Box in our online store, and you will be sent the Foodie Box for the current month.